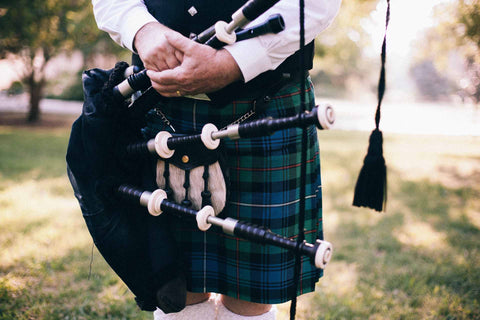 Scottish tartan, the design of an iconic symbol
Those of us who are starting to get a little old may remember the movie Braveheart on VHS. It features Mel Gibson in Scottish tartan as William Wallace, a royal soldier who led his country/region/whatever against the English occupation by Edward I.
The movie is from 1995, so it's a little late to gut it: it ends when Mel Gibson aka "William Wallace" gets his hair cut below zero.
Surely, thanks to this movie of our childhood/adolescence, it was the first time that many of us heard about Scotland and discovered one of its most representative symbols today:
The tartan, the "plaid" design of the kilt, as Mel Gibson and his men rolled up their sleeves to show their buttocks to the English troops in the mythical scene.
Therefore, in today's post we wanted to talk about the Scottish tartan, starting with a fundamental question....
Is it called tartan or is it called kilt?
Among those of us who live much further south in Scotland and see the sun on a daily basis, there is quite a bit of confusion between the term "tartan" and "kilt".
Tartan itself refers to the pattern of vertical and horizontal lines that, when crossed, create the characteristic checkered design.
The kilt, on the other hand, is the name of the traditional Scottish kilt, as comfortable as it is for showing off your hindquarters to your enemy as it is for participating in a log throwing competition.
The origin of Scottish tartan
Although tartan is now associated with Scotland (and the UK in general), tartan patterned clothing has been found as far away from the Highlands as China. There are also records of ancient Celtic tribes living on the European continent wearing tartan garments.
Actually, these findings are not very surprising: you didn't need to be the Picasso of the time to create a pattern that consists of crossing a horizontal and a vertical line...
Be that as it may, it seems that the Scottish tartan was introduced by a tribe from the north of Ireland. That and that, although today the tartan is manufactured in different fabrics, in its origin, the garments were made with wool and dyed with dyes taken from the vegetation of the area.
Tartan and the Scottish clans
In William Wallace's Scotland, society was composed of clans, whose roots are to be found in ancient Celtic, Norman or Norman-Franconian traditions. And, contrary to the common imagination, it was not necessary to have blood ties to belong to a clan.
These clans were identified with geographical areas originally controlled by their founders, some of them recognizable in the clan name. In addition, each clan wore a tartan with a different weave and colors, so that its members had to wear it to show their membership.
A bit like the soccer kit of the time, only without the name of a millionaire ball-chucker on the back.
The banning of Scottish tartan by the English
"If you can't beat your enemy, ban his symbols". That must have been what the British government thought in 1747, who, as a good empire, banned the Scottish tartan in the Highlands until 1782. The reason, a series of insurrections to see who had it bigger (the crown).
However, no ban lasts forever, so, once lifted, the Scottish tartan began to be seen in precisely the way that scandalized the English most: as a romantic symbol of Scotland's history and resilience.
From then on, tartan became more and more (re)known, not only in Scotland, but throughout the UK and Europe.
Tartan in our days
Nowadays, finding the needle in the haystack is easier than finding someone who has not worn a tartan garment at least once (and even more so after the hipster fever that opened so many barbershops).
With the explosion of the fashion industry in recent decades, tartan is used as a pattern for all kinds of garments: shirts, sweaters, pants, hats and, of course, skirts (not necessarily posh school skirts).
But if you scroll down just a little further, you'll discover that there are also tartan patterns shoelaces for sneakers. Or do these types of accessories always have to be dull and lifeless?
Shoelaces designed with tartan patterns
Like William Wallace (though hoping not to end up like him), we at Sliwils also revolt: against the reign of classic and boring looks.
For this reason, and because we take literally that"dressing by the feet", we are dedicated to create original and fun shoelaces with which you can express your inner world.
If yours is in tartan, just below you will find the laces you were missing to put the finishing touch to your outfit:


Tartan pattern doesn't suit you? No worries! You will also find phosphorescent shoelaces, bright shoelaces, animal print shoelaces... Whatever is your world!

To finish, whatever shoelaces you choose for your style, always remember the most important thing:

"FREEEDOOOOOOOOOOM!!!"